In the face of the rise of the 100W GAN charger market, ANKER launched a 100W USB-C to USB-C cable some time ago, with a cable length of 1.8m and dual Emarker chips, with a measured power transfer capability of 20V/5A, data transfer capability of USB 2.0, and support for 100W PD fast charging. Here we will disassemble this cable to see how its design and workmanship.
1.ANKER 100W cable appearance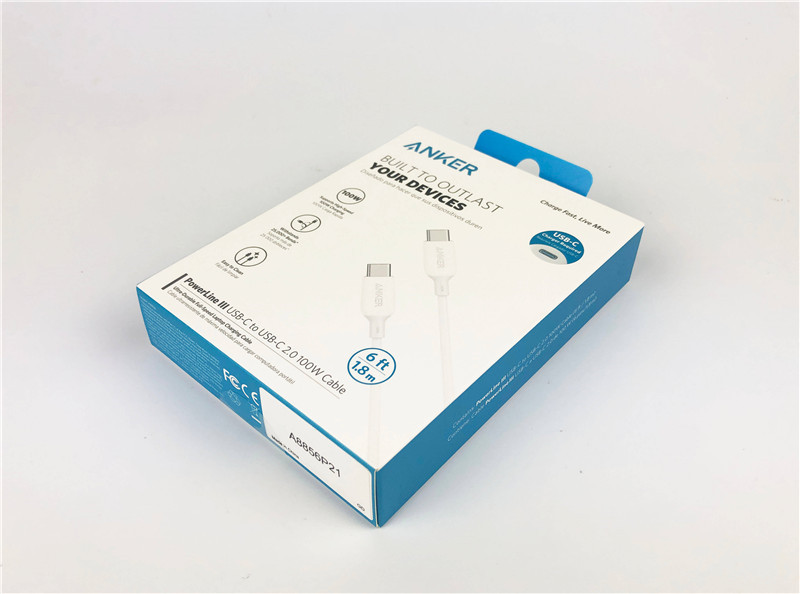 The cable package contain main bullet point:
Reinforced bulletproof fiber core withstands over 25,000 bends.
Support power delivery high-speed charging.
Capable of handling 100W maximum power to charge laptops, phones, tablets at full speed.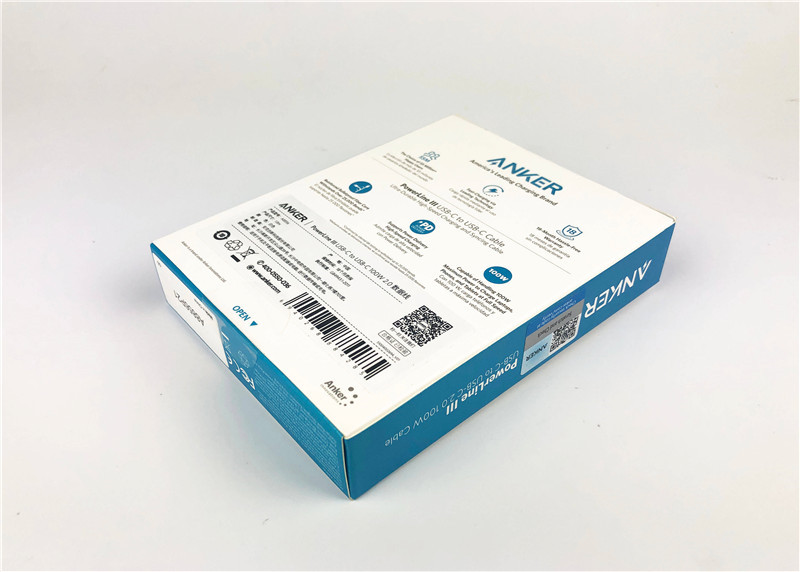 Product name is Powerline Ⅲ USB-C to USB-C Cable 2.0 100W Cable.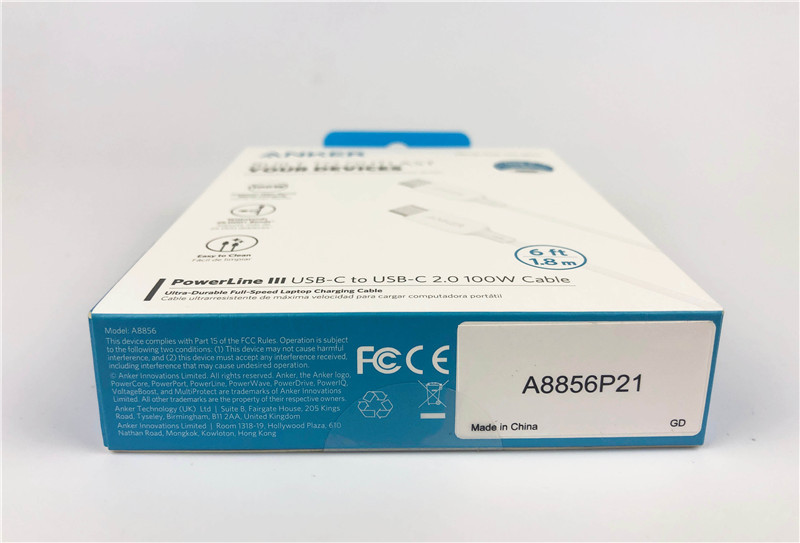 At the bottom of the package contain product model and certification, this cable is FCC and CE approved.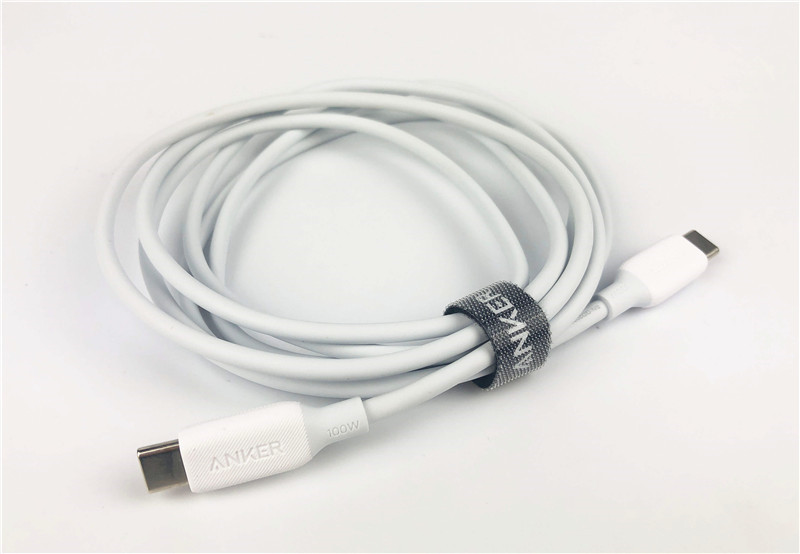 This cable used white TPE Jacket, green and environmentally friendly materials, with a good hand feel and texture.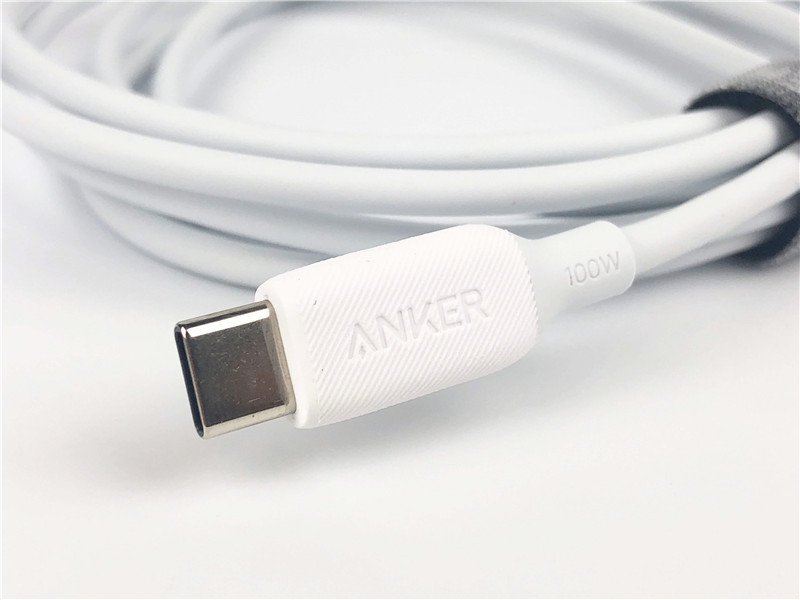 The connector of the cable is embossed with the ANKER brand and the word 100W.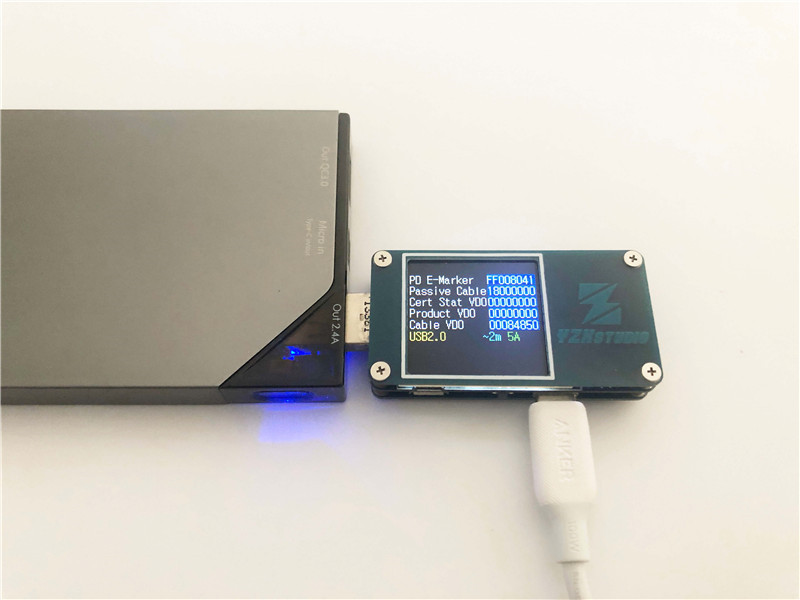 We test this cable by the current tester, it builds in Emarker chip, support USB2.0 data transfer, and 5A current rating.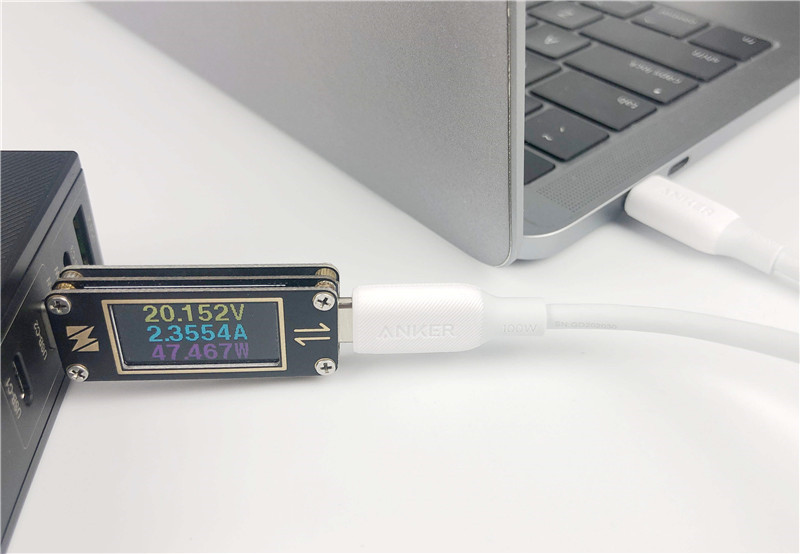 We use this USB-C cable to charge 13-inch Macbook pro(61W max), the current tester shows the voltage 20.152V,current 2.3554A, power 47.467W, support USB PD charging,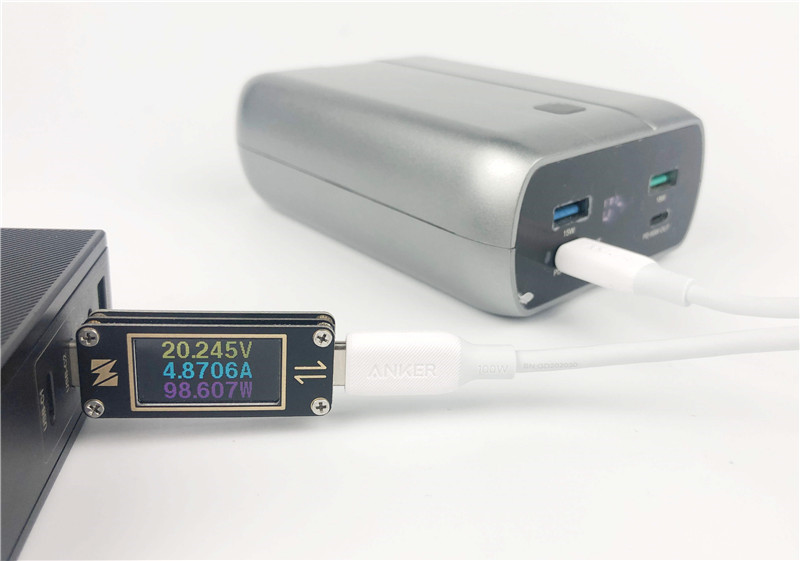 and charge 100W power bank, the current tester shows voltage 20.445V,current 4.8706A, power 98.607W, support 100W USB PD charging.
2.
ANKER 100W Cable Teardown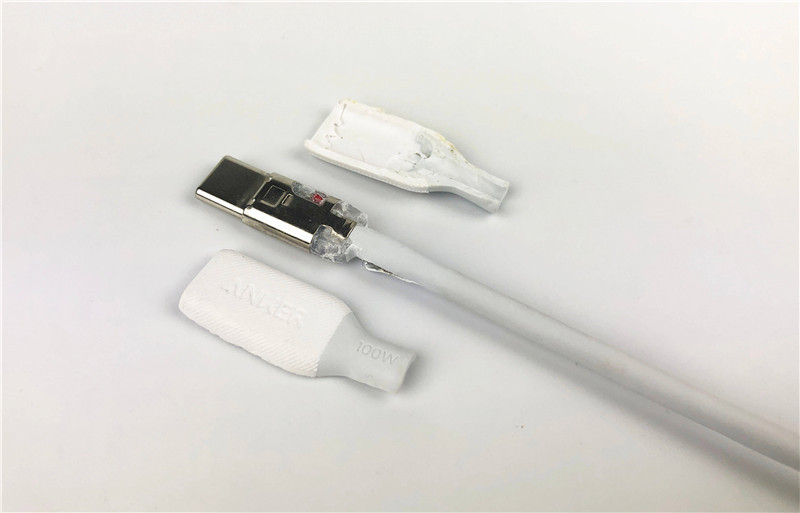 Firstly, we managed to remove out TPE jacket from the connector after some careful cutting,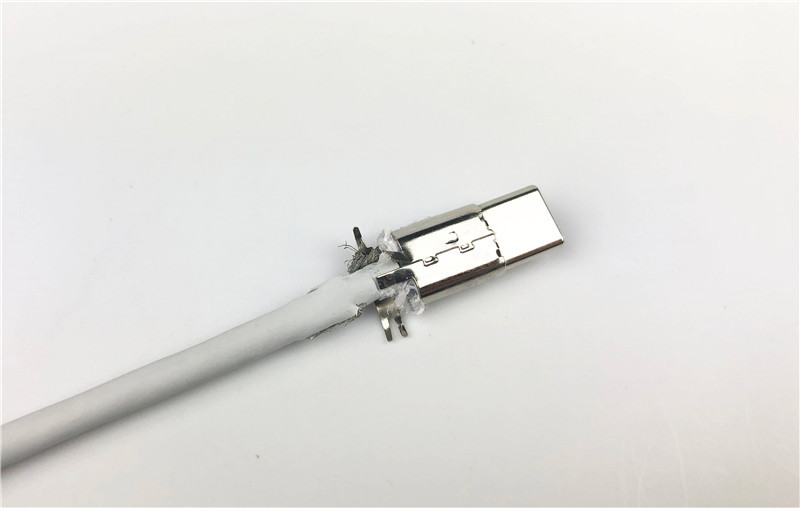 The USB-C pcb protected by metal casing with laser welding workmanship, open the riveted end clip from the end of the connector.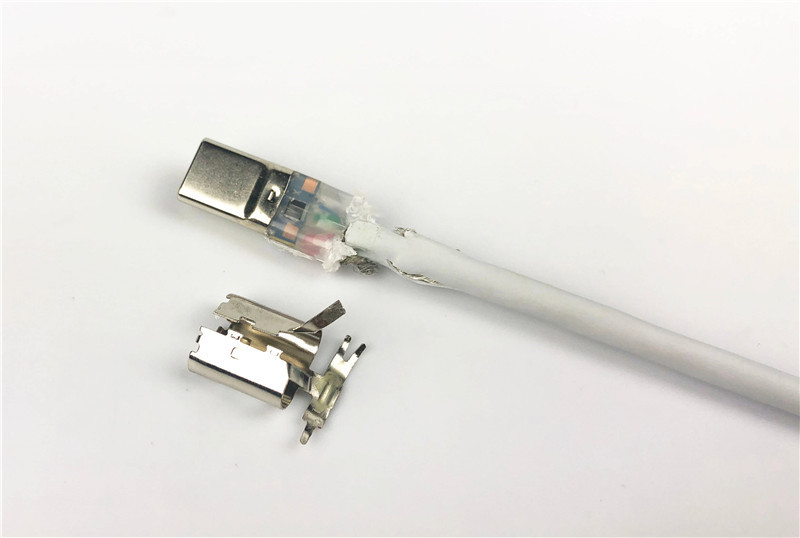 Use sharp-nosed pliers to unravel the metal shell.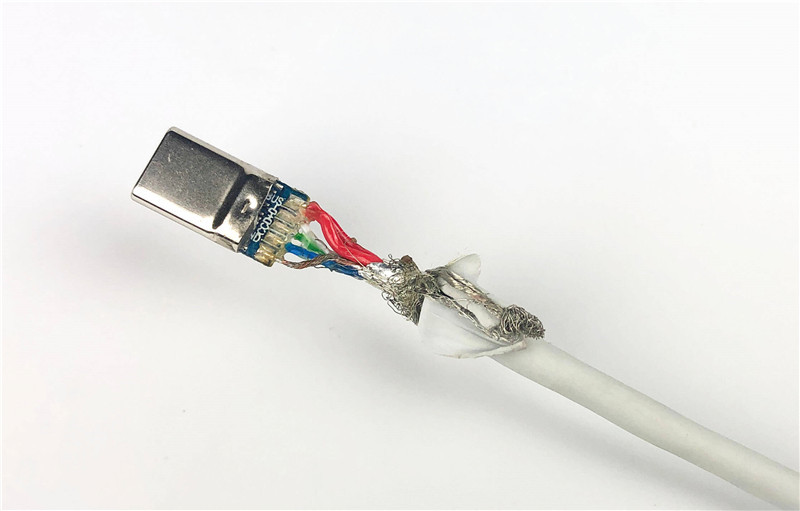 The usb-c pcb is wrapped in a transparent plastic, clear it by heat gun and tweezer.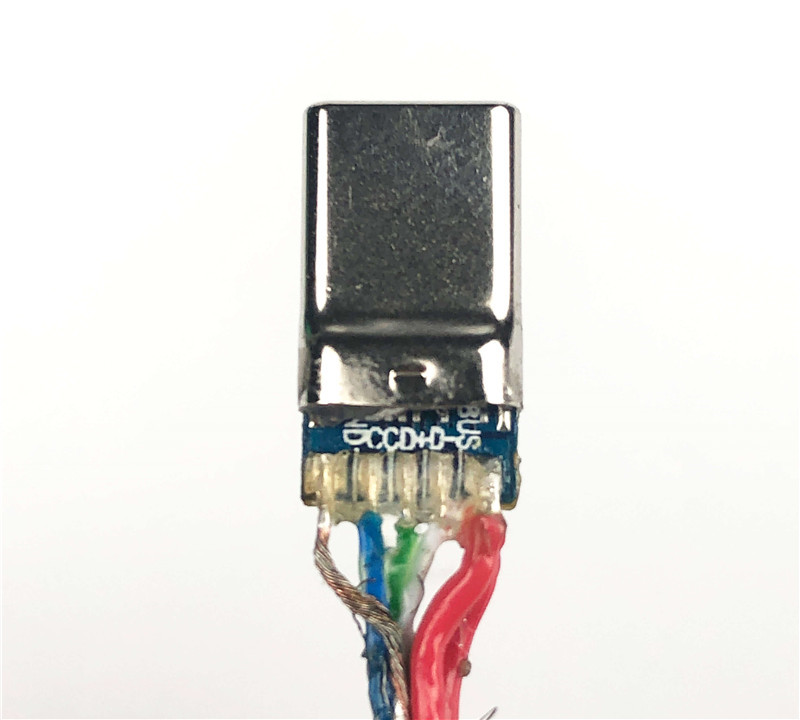 there is 5 connection pads on the pcb,GND,CC,D+,D-,Vbus, the Vbus used 2 wires to meet 5A current requirement.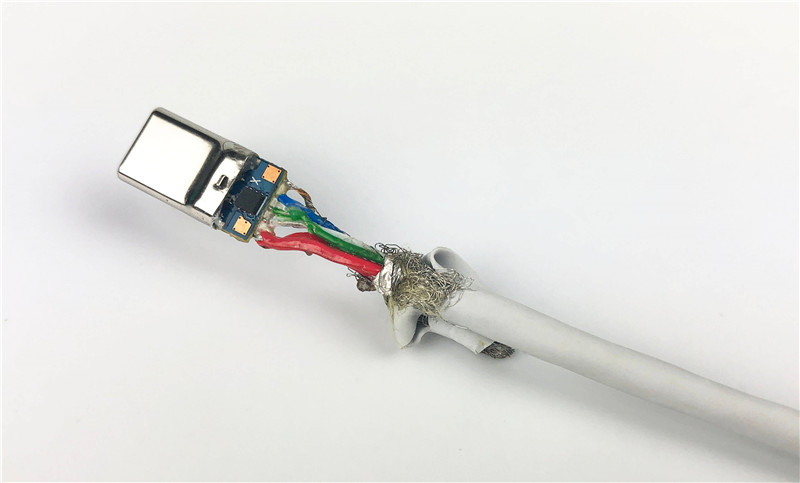 There is a chip on the other end of the connector, without any resistors or capacitors.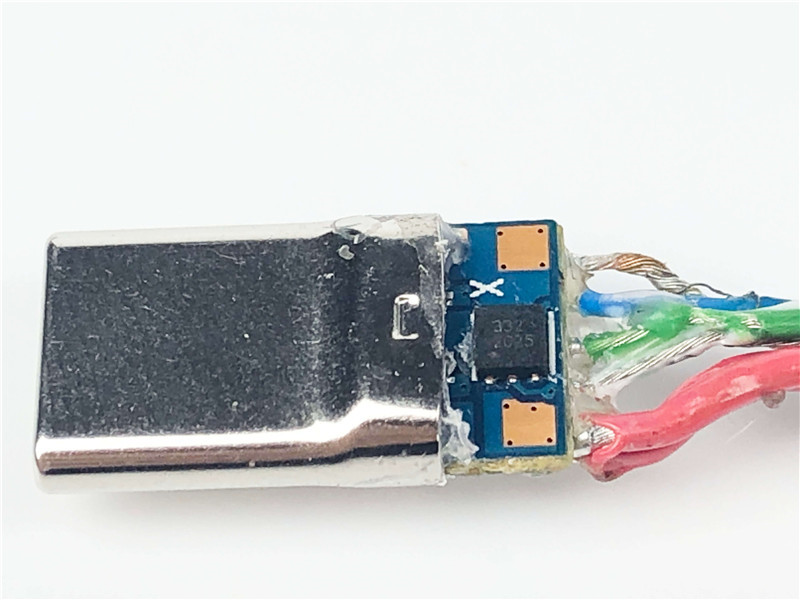 enlarge the chip details, the chip printed "332 2025", This is a EMarker chip for
USB Type-C Cables
from
Hynetek Semiconductor
, product Model is HUSB332, support USB Type-C 1.4 and PD 3.0 compliant, USB-IF Certified. TID No.: 875, XID No.: 5400, widely used in USB2.0 cables, USB3.0 cables, USB3.1 cables,USB3.2 cables and Thunderbolt 3 40GB cables.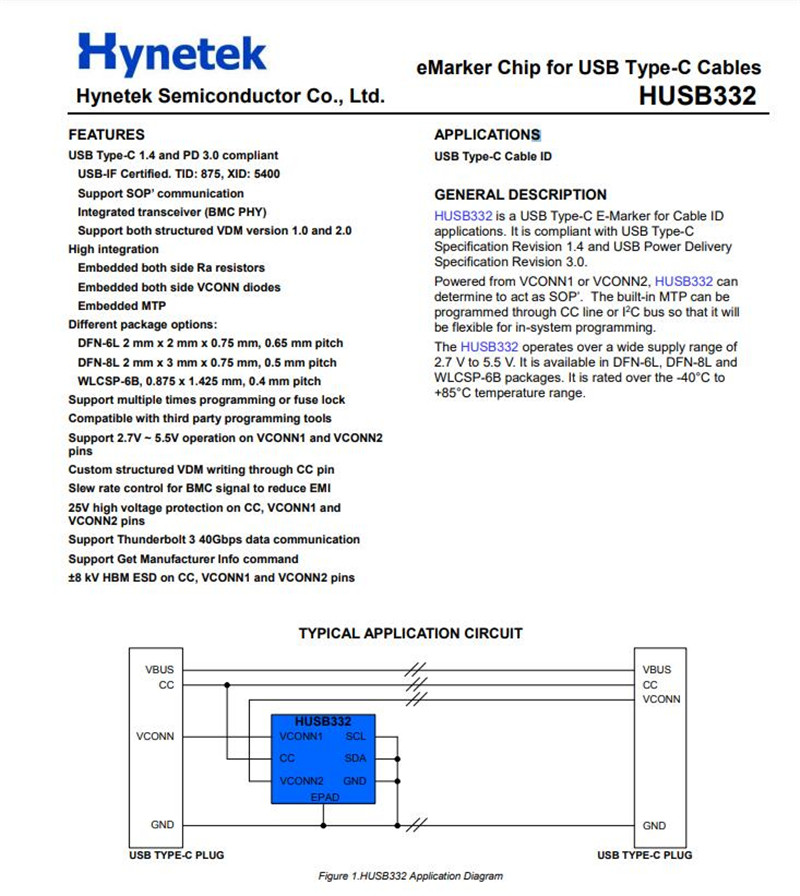 Hynetek HUSB332 Main Feature:
Got latest USB PD3.0 compliant, TID 875.
High integration, zero electronic component.
Support Thunderbolt 3 40Gbps data communication Support Get Manufacturer Info command.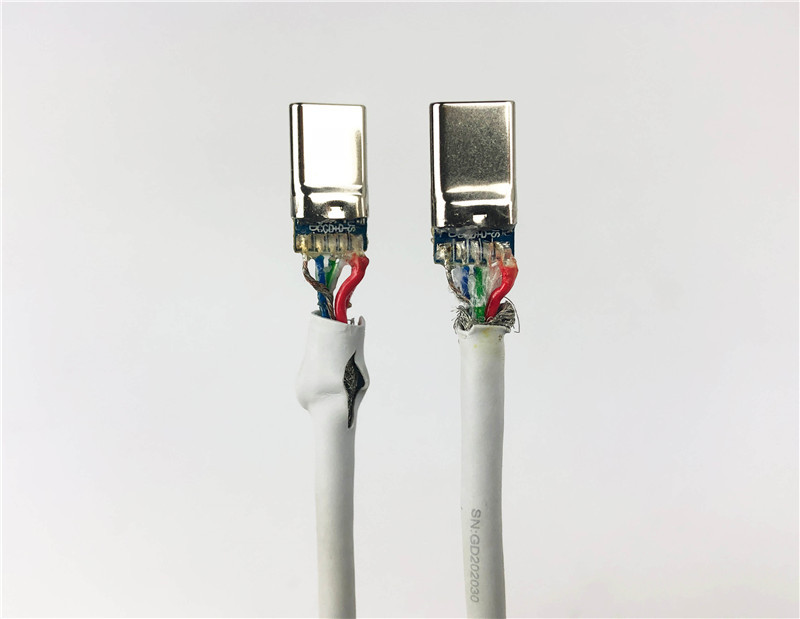 Next, we disassemble another type c connector with the same method.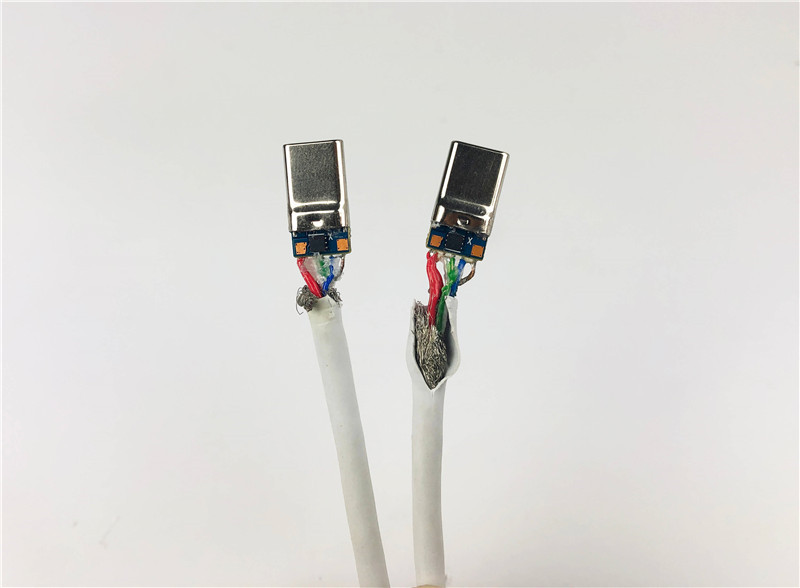 There is the same HUSB332 Emarker chip on the other end of the connector, dual-chip design is rare on the market, the advantage of such a design is to enable the charger to read the chip success rate is higher, to ensure stable high-power transmission, so when the cable length reaches 2 meters or longer with two chips will be better.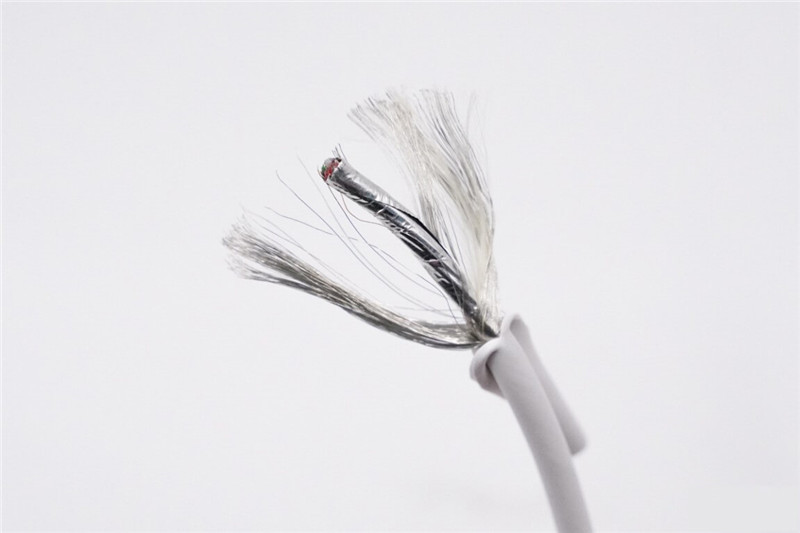 The cable inner structure used braid shielding and aluminum foil, it provides better shielding against magnetic interference, guaranteeing interference resistance during data transmission, and also greatly enhancing the pull-out resistance of the data cable.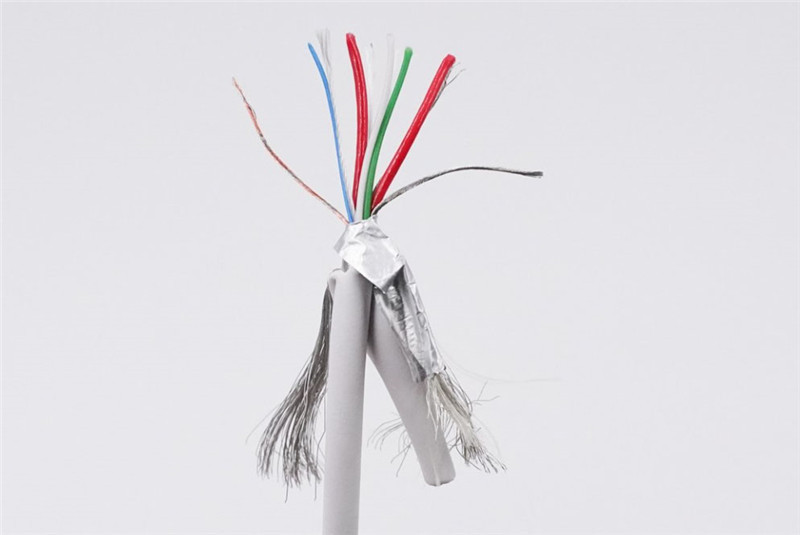 there are 8 wires after reveal the braid shielding and aluminum foil, 2 red Vbus wires, 1 green D+ wire, 1 white D- wire, 1 blue CC wire, 3 bare wires(2 wire terminate to the plug metal shells, third wire connect to GND pad.)

Refer to the USB2.0 Type-C Standard Cable Assembly Wiring and compare to
Thinkplus 100W cable
, the ANKER cable doesn't exist Vconn signal wire, according to Hynetek product engineer feedback, as dual-chip design, so it just needs 5 connection pads.
3.Teardown Summary
The ANKER 100W cable builds in high-quality materials and outstanding workmanship.
Used Hynetek HUSB332 certified Emarker chip to meet safety charging requirements.
Dual-chip design improves cable transfer performance.
Type c plug protected by metal casing with laser welding workmanship, it improves the cable durability.
Braid shielding and aluminum foil provide better shielding against magnetic interference.